ARTS AND EDUCATION
PATAN MULTIPLE CAMPUS, PATAN DHOKA
10 AM — 5 PM
The Arts and Education Program of the festival is planning to work closely with schools, teachers and students by conducting workshops and guided tours. We have prepared a learning kit in order to support teachers and families so that students can have a focused learning experience as well as an enjoyable time. The program will be led by Sharareh Bajracharya and Niranjan Kunwar.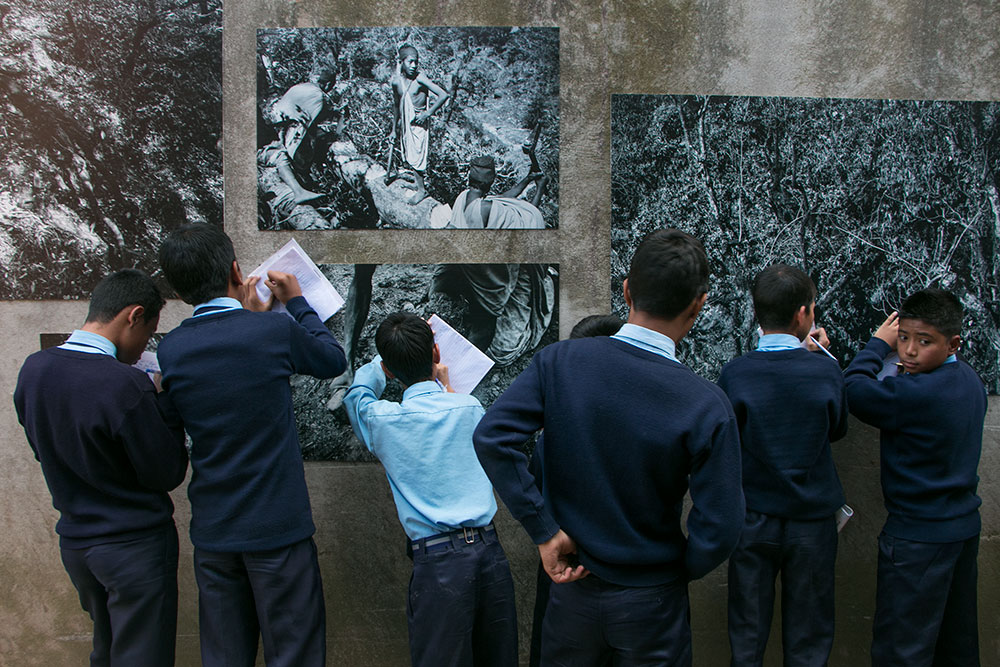 Additionally, the Photo Kathmandu Arts and Education program will offer:
● A Teachers Seminar on Saturday, October 22, between 11am – 3pm at Yalamaya Kendra, Patan Dhoka. The seminar will orient interested teachers and administrators towards the festival. We will provide tips and suggestions that will help teachers and students navigate the festival in a manageable way.
● Guided tours for school groups during the week of October 23. Each tour will include an introductory briefing session, an interactive walk through specific exhibits followed by a reflective closing session.
All these programs are offered to schools, teachers and students for free. We encourage teachers and administrators to consider visiting Photo Kathmandu and take advantage of the unique and diverse learning opportunities for your students.
If you wish to get more information, or reserve a spot for the Teachers' Seminar/ Guided Tour/ Art Workshop, please email learning@photoktm.com or contact us directly by phone. Prizma Ghimire will help you with scheduling – you can reach her at 9841531299
We look forward to seeing you at Photo Kathmandu!
---
PHOTO KATHMANDU GUIDED TOUR LEARNING KIT
We have designed this learning kit especially for families, teachers and students of all age groups for a fun, focused and meaningful experience at the exhibitions.
Included in this kit is a map, festival schedule and activities related to four exciting and important exhibitions.
How to use this kit:
1. Make sure you pick up a festival schedule which has short descriptions of all the exhibitions, photographers and events as well as a map that will help you get around.
2. Choose an exhibition you want to start with. Read the description and look at the photos to think about what you already know or expect to see.
3. Locate the exhibition on the map, plan your route and allocate enough time at each exhibition. Students can work on this kit at the venue or in another quiet place.
Teachers are encouraged to design prompts and worksheets for other exhibitions in addition to the four in this kit. We suggest multiple visits to fully experience Photo Kathmandu 2016!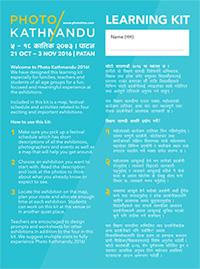 DOWNLOAD THE LEARNING KIT [2.1 MB | .pdf]
---
ART WORKSHOPS
These workshops are designed for creative individuals who are looking for a deeper experience with the photo festival. In addition to exploring photography as a creative medium, participants will use various artistic mediums such as theatre and photo collage. The workshops engage participants in the artistic process and issues explored in the exhibits.  The workshops will be facilitated by an artist from Nepal. The artist or curator of the exhibition will also be present.
Recommended for students of fine arts, theatre, literature, and/or social science, bachelor's and master's level.
OBJECTS WITH ME
Inspired by the Exhibition "Alive" by Kim Hak, Cambodia
25 – 26 October
10 AM – 1 PM
Manka Khala, Chyasal
Number of Participants: 15
Facilitators of the Workshop: Sunita Maharjan and Sanjeev Maharjan
Participants engage personally with both the storytelling and aesthetics of Kim Hak's photographs, "Alive".   Each photograph is composed to enact what the object means for the person who has saved it when persecuted by the Khmer Rouge.  Artists, Sunita and Sanjeev Maharjan, along with Kim Hak, will facilitate participants to collect an object from a person in their household or neighborhood and create an original artwork through photo collage and drawing.
REMINISCENCE
Inspired by the Exhibitions "By an Eye-Witness" by Azadeh Akhlaghi and "Dalit: A Quest for Dignity" curated by Diwas KC
27 – 28 October
10 AM – 1 PM
Manka Khala, Chyasal
Number of Participants: 15
Facilitator of the Workshop: Anup Baral, Actor's Studio
Azadeh Akhlaghi recreates scenes of murder in Iran's past based on her own understanding of people's and written accounts. The past becomes something she carries into the present.
In this workshop, participants will engage in Akhlaghi's process and join the direction of Anup Baral to recreate a scene of violence experienced by the Dalit community in Nepal.  Anup Baral will guide the participants to reminisce on the past and bring the experience in their bodies.  Participants each take on a character, interpret the person's intention, and then react to the situation.  The group will create a final still image that recreates the scene of violence.
---
With Support from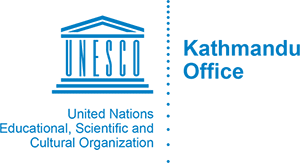 Education Partners