COME VISIT!

Kathmandu is a smorgasbord of sights, sounds and cultures. October offers beautiful weather, festivals and jazz! The festival is a great excuse to discover the city, seek inspiration, and make new friends.
By visiting the festival, you will directly contribute towards the post-earthquake rebuilding of the Nepali economy.
WHY YOU SHOULD VISIT NEPAL IN 2018
⦁ Tourism provides one of the largest sources of foreign revenue to Nepal. So, keeping the revenue flowing is key to rebuilding and economic survival.
⦁ A very large percentage of tourism jobs are held by people from earthquake-affected areas, and it is estimated that one visiting tourist provides nine people with jobs.
⦁ A multitude of individuals in varying roles are sustained by tourists: those in hotels, transport companies, restaurants, airports, taxis, gear shops and souvenir stalls, not to mention the farmers who grow the food to supply the industry.
⦁ The multiplier effect of every dollar spent on travel in Nepal is immense.
⦁ Jobs and currency are the most needed long-term items for sustainable rebuilding.
VISA INFORMATION
You can get a tourist visa on arrival, but you can count on a good hour of queuing at the immigration desk at the airport. Avoid this by getting a visa online.
Tip: Unless you know your hotel's address, you can use this photo.circle's details for the mandatory section "Address in Nepal": House Nr: (not mandatory) – Street: Arun Thapa Chowk – Ward Nr: 3 – VDC/Municipality: Lalitpur – District: Lalitpur. Further down, the Hotel address is not mandatory.
For further information check Nepal's Immigration website. Indian visitors don't need a visa to enter Nepal, but bring your passport.
PRACTICAL GUIDE TO NEPAL
To help prepare for your trip, we have compiled information on practicalities such as visa procedures, how to get a local sim card, things to pack … along with some suggestions on places to eat and what not to miss while in Nepal.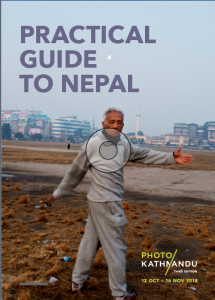 Download [.pdf | 707 Kb]