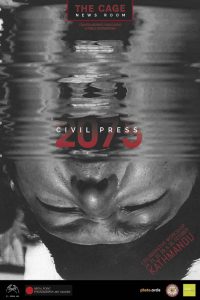 THE CAGE / NEWSROOM is a collaborative workshop that encourages local citizens to visually respond to contemporary socio-political issues. By activating an ongoing archive composed of official, unofficial, cooperative, community, and personal images – both physical and digital, participants will produce an experimental and public intervention to disseminate the results.
2075 Civil Press, the workshop's theme for Photo Kathmandu 2018, aims to address the paradigm of time as a constantly spinning helix, a natural cycle recurring ad-infinitum. Nepal, a diffuse territory long ensnared in political tensions with India and China, and with a modern history marked by absolute monarchy and a recent civil war, has synthesized its identity primarily through rituals, religion, language, and nature. In today's global age, tourism, agriculture, and labour migrations are among its chief socio-economic drivers, and the society faces a constant pressure to re-imagine itself.
In today's social climate, traditional cultural values come into conflict with the demands of development and modernization. The current societal shift in which "contemporary social changes are characterized by the waning of pre-capitalist political-economic forms, the growth of a market economy, democratization and associated new forms and freedoms for individualistic self-expression" (Boyce and Coyle, 2015) demands that cultural practitioners examine existing power structures and engage with changing ideas of individualism, not least of which are social norms regarding gender, sexuality, and marriage.
In pursuit of a more egalitarian ideal, THE CAGE / NEWSROOM propose a collective visual analysis, which entails understanding how social identities come to exist in relation to one another; how those social interactions produce marginalization and prosperity for different groups; and how unequal power structures are sustained, reconfigured and reproduced over time.
WHO SHOULD APPLY?
Nepali visual practitioners who are interested in telling contemporary socio-political stories.
WORKSHOP DETAILS
Dates and times:
24 – 25 – 26 Oct: 10am – 5pm
27 – 28 Oct: shooting days
29 – 30 Oct: 10am – 5pm
Workshop venue: Kathmandu University, Hattiban
Language: English
Max. number of participants: 15
APPLICATION REQUIREMENTS
To apply, send us:
the filled-in application form: 2075 CIVIL PRESS: THE CAGE Application Form
a selection of your work: 10 low-resolution images (800 pixels on the longer side) of any visual material produced or of interest
your profile picture
to workshops@photoktm.com. The subject of your email should be the title of the workshop. If attachments exceed 10 MB in size, please send them via WeTransfer.
FREE WORKSHOP
APPLICATIONS ARE CLOSED
By applying for a workshop, we expect you to agree to the festival's code of conduct.